LEADERSHIP & MINISTRY TEAM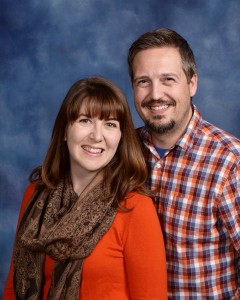 Lead Pastors: Rob & Anna Thoreson
Pastors Rob and Anna came to Algona Faith in August of 2015. Pastor Rob received his undergraduate degree from Central Bible College in Springfield, Missouri. Pastor Anna received her ministry training through Berean School of the Bible, also located in Springfield, Missouri. They are both ordained ministers with the Assemblies of God and have almost 40 years of youth ministry experience between the two of them. Pastors Rob and Anna were married in 1998 and have two children: Eli and Sarah. As a family, they are passionate about two things: loving God and loving people. They are also avid Star Wars fans.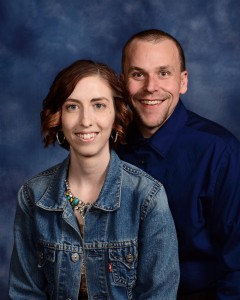 Children's Pastors: Curtis & Alissa Trulson
Pastor Alissa Trulson is a native of Algona, and has been a member of Algona Faith for most of her life. She has been involved in children's ministry for 10 years and became our Children's Pastor in June of 2015. Pastor Alissa completed two years of Master Commission in Springfield, MO, received credentials through the Iowa School of Ministry (ISOM) and is currently a Licensed Minister. Her hobbies include, painting, traveling, writing, reading a good book, listening to oldies music, Jane Austen, anything British and Sci-fi (Star Wars, Back to the Future, and Doctor Who).
Pastor Curtis has served in children's and youth ministry in Iowa and Indiana. Pastor Curtis is a Certified Minister through ISOM and will be Licensed in 2017. When he's not at church, Pastor Curtis works as a forklift driver and enjoys working out, running, spending time with Pastor Alissa on leisurely walks or watching a good movie at the theater.
Administrative Assistant:
Marcia assists Pastors Rob & Anna with the ministry and finances of the church. She also serves on the Worship Team as our keyboard player and is a singer. Her family began attending in 2002 and started working in the office in 2006. Marcia knows God has called her to use her gifts to serve Algona Faith. Marcia is married to Dale and lives in Burt. Together, they have 4 grown children: Nicole, Adam, Ben, and Olivia.
Nursery Coordinators
Sue Kearney & Hilah Owen
Advisory Board
Elders: Wayne Fuerstenau, Lindsey Moe, Bruce Terhark
Deacons: Josh Biddle, Dennis Kearney, Rocky Olmstead
Representative: Carolyn Marshall