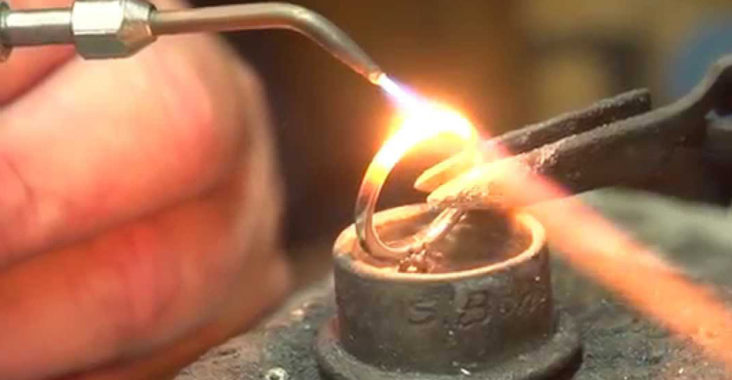 "Fire tests the purity of silver and gold, but the Lord tests the heart." (Proverbs 17:3 NLT)
Long ago, I spent a year as a jeweler's apprentice. My job included sizing up and down, casting, polishing, cleaning and courier-ing. I still remember my first day on the bench, learning to size a ring. My boss sat at my side and instructed me though securing the ring in the clamp, dowsing it in a rubbing alcohol-like substance and setting it on fire. I squawked! He laughed and said, "Yeah, most ladies would have a heart attack if they knew the first thing we did to their diamonds was set them on fire."
Once I'd recovered from the initial shock, I searched for a reason why. "Are we burning off impurities?" He nodded and we went on with the day's lesson.
God wants to set our lives on fire. The testing process purifies us, makes us more like Him. We can resist it, resent it, or choose to cooperate an allow ourselves to be remade in His image.
The bench procedure for a piece of jewelry is brutal. After the initial burn, it's cutting, welding, gouging, bending, filing, filling and eventually, polishing. Yet, at the end of all that ugly-uncomfortable, it's beautiful. I suspect the same is true for us.
"So be truly glad. There is wonderful joy ahead, even though you must endure many trials for a little while. These trials will show that your faith is genuine. It is being tested as fire tests and purifies gold—though your faith is far more precious than mere gold. So when your faith remains strong through many trials, it will bring you much praise and glory and honor on the day when Jesus Christ is revealed to the whole world." (1 Peter 1:6-7 NLT)
Lord, we've got to be honest, we don't like testing. But we long for the results that testing will produce. Help us withstand the fire with the future in mind. Amen.