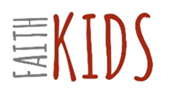 Our Mission along with Growing Faith and Sharing Faith, is to partner with families in their efforts to provide a foundation for their children and to assist families in developing those children into fully devoted followers of Christ. We believe that you are the best person to be the primary disciple of your children-and we will do everything we can to assist you and create a supportive learning environment for your children to meet together and learn how to follow Jesus in their own lives.
What to expect
Each week our children worship in the sanctuary with the adults and then are dismissed at 10:45 a.m. Children will learn to grow in faith and share their faith through an interactive Bible lesson, purposeful play, discipleship activities, and games specifically for their age group. Allowing children to develop Spiritual habits in their relationship with the Lord and apply His truths to their lives every day.
Contact us at: teamfaithkids@gmail.com
Sunday School at 9:00 a.m. Our Vision
Pre-K through 5th Grade To help make disciples of our young children,
so they will grow in the knowledge and Sunday Service at 10:00 a.m. grace of our Lord Jesus Pre-K though 5th Grade
Wednesday Midweek Service at 6:00 p.m.
Pre-K though 5th Grade
Our Mission
Learning to Grow Faith and Share Faith
Study God's Word
Have Honest Relationships
Worship God only
Tell others about Jesus
Teach them to your children, talking about them when you sit at home and when you walk along the road, when you lie down and when you get up. Deuteronomy 11:19