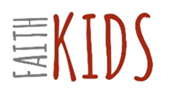 Kids Sunday School is available for kids of every age Sundays at 9am.
Sunday Service
For our 10am service, the kids are in the sanctuary for the main service until they're dismissed. Once downstairs, they sing songs, give an offering, and hear announcements. Then preschool kids head upstairs to the Preschool Room for a lesson designed for them while the older FaithKids stay in the Children's Ministries Room for their lesson.
-Jr. FaithKids is for ages 3 to 4.
-FaithKids is for kids in Kindergarten (5 yrs) through 5th grade.
Parents are encouraged to pick up their children downstairs once the main service is dismissed.
Wednesdays
During the school year we start at 6:00 pm with a song, receive an offering, have announcements, listen to a lesson as one big group, and then break up into smaller groups where they work on the verse of the week, review the lesson, have a snack, and do an activity, game, or craft. We all then come back together to finish the night with an altar call and closing prayer.
Nursery is available for all Sunday and Wednesday services. You can check your child into the nursery which is located just off of the lobby.